Choosing the right family for your child is a huge step!
The following families are currently waiting to adopt through New Life Adoptions. Only a few of our families are posted on our website right now, but more are creating their online profiles even as we write.
Every adoptive family we work with is thoroughly screened, financially prepared, and has agreed ahead of time to an open adoption. Also, all of our families live in the great state of Texas! We think they are pretty amazing, and we know you will too!
Each of these families have been educated on open adoption and believe that it is what's best for the child, if that's what you desire. You choose your level of openness. They would love to have a relationship with you, if you are comfortable with that. However, they understand that if it is too difficult for you, and you would rather have a closed relationship, New Life will always be here if you change your mind about the comfortability of the level of openness with your child's adoptive family.
Please contact us for further information on other families available and more detailed information on families currently waiting. We look forward to hearing from you.
Jason & Moni
Hi, there! We are Jason & Moni. We met in Oxford, England in 2008 at a Church Conference. We had long distance relationship for a little over two years and got married in October 2010.
Since the early stages of our relationship we always talked about adoption, we knew God had called our family to adopt, we just didn't know when or how it would happen for us. We have prayed for years and  let God guide us every step of the way and here we are…with open arms and open hearts.
Jason is an Electronic Engineer. Moni works part-time at her family's business and serves in the Women's Ministry at her Church. Together we have three energetic, kind, caring, funny, and very loved children. Our oldest is Caleb (8), then we have Eli (6), followed by Elise (4).
We are blessed to have a very large close-knit family, our family gatherings are always filled with music, laughter, good food and lots of love. We love to travel, learn and experience different cultures. But we have also learned that most of the time it is the day-to-day, ordinary or in the spontaneous that the most beautiful memories are made and strong bonds formed.
We haven't met you yet. But we have been praying for you and your baby for a while. Know that we not only consider the baby as one of us…but from now on you part of this family.
We are so excited to meet y'all!
David & Jacqui
Hello! We are David, Jacqui, Austin (9) and Audrey (5). We met at a BBQ through mutual friends from church and got married a little over a year later.
As you read this, we want you to know that we've been covering you in prayer since the beginning of this journey, and we look forward to a relationship with you in whatever way you feel comfortable. Your deep love for your baby will always be acknowledged and honored in our family, and you will always have a cherished place in our hearts.
The Lord placed adoption on our hearts eleven years ago when we were newlyweds. When Austin was almost four, we adopted our beautiful daughter, Audrey, and we now feel the Lord leading us to adopt again. We are so excited to welcome our third child and become a family of five.
David works from his home office as a Marketing Director and Jacqui loves caring for the kids and family as a stay-at-home mom. We have extended family close by and we love meeting up at the lake for fun-filled weekends of boat rides, swimming, tennis and more. Our faith is the core of our family, and it's what guides us to raise our kids in a loving and supportive Christian home. We also have an incredible church community which feels like extended family.
We look forward to the possibility of meeting you, and we hope you always know that you are making a brave and beautiful choice.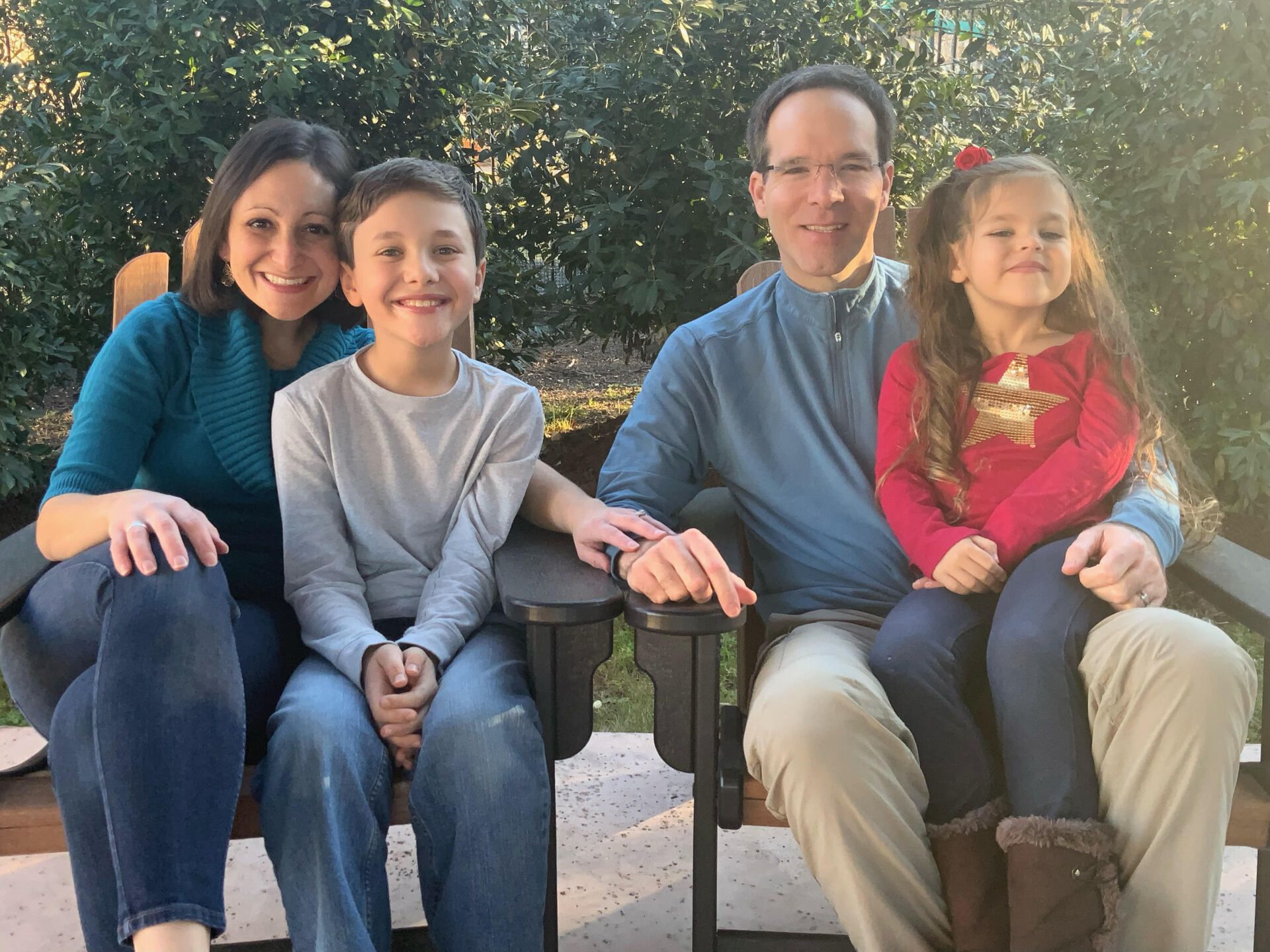 Ashton & Lindsay
Hello, we are Lindsey, Ashton and Ava! Ashton & Lindsey have been together since 2005 and are high school sweethearts. They got married in 2012 after both graduating college. Ashton began working in oil & gas and Lindsey was a dedicated elementary school teacher for 5 years. They were able to have their 5-year-old daughter, Ava, via IVF in 2017.
Lindsey and Ashton so love being parents and want to continue to grow their family. They felt God led them to explore adoption after having such a difficult time getting pregnant with Ava. They are so excited about this next journey to adopt now! Ava prays nightly for her baby brother or sister. She will be the best sister!
Ashton, Lindsey, and Ava are an active family who love to get out and enjoy adventures! They are sports fans and cheer for the Astros, Texans and Denver Broncos! They love to stay busy and take trips to the beach, explore the outdoors, go swimming, and do fun activities like mini golf, bowling, and playing games. They also love to spend time with their beloved dog, Kali Beth. Lindsey and Ashton live near their parents and get to spend lots of time with all of them.
Lindsey is now a stay at home mom and is involved in mothering groups through their local church. She also loves being able to take Ava to the zoo, play dates, children's museums, and story time. Lindsey has also used many of her teaching abilities with Ava to help her be successful when she enters elementary school. Lindsey, Ashton and Ava cannot wait to add a new baby to their loving family. They have so much love to give and have created such a wonderful life together and are so ready to share it with another sweet baby!
Brian & Tiffany
Hello! We are Brian, Tiffany, Olivia and Kate. We look forward to sharing a little about our family as we excitedly prepare to add to our family through adoption!
We met through a mutual friend in Florida in 2011 and were married in 2012! Tiffany was working as a live-in nanny and Brian as an engineer. We moved to Texas a couple years later in hopes to live closer to family as we started a family of our own. Since then, we have added 2 beautiful girls to our family. Olivia was born in 2014 and Kate in 2017. We also have a sweet pup named Izzy who joined our family in 2021.
We both grew up in Christian homes and our faith is very important to us. We are active in our church and enjoy many different opportunities to serve and worship there.
Brian works outside the home as an engineer and Tiffany is a stay at home mom. We homeschool our girls and enjoy the opportunity to learn and grow together! We enjoy traveling as a family, going on field trips together and playing board games. We also love entertaining friends and family!
We pray for the opportunity to meet you and get to know more about you as we move forward towards adoption! Thank you for taking the time to consider our family!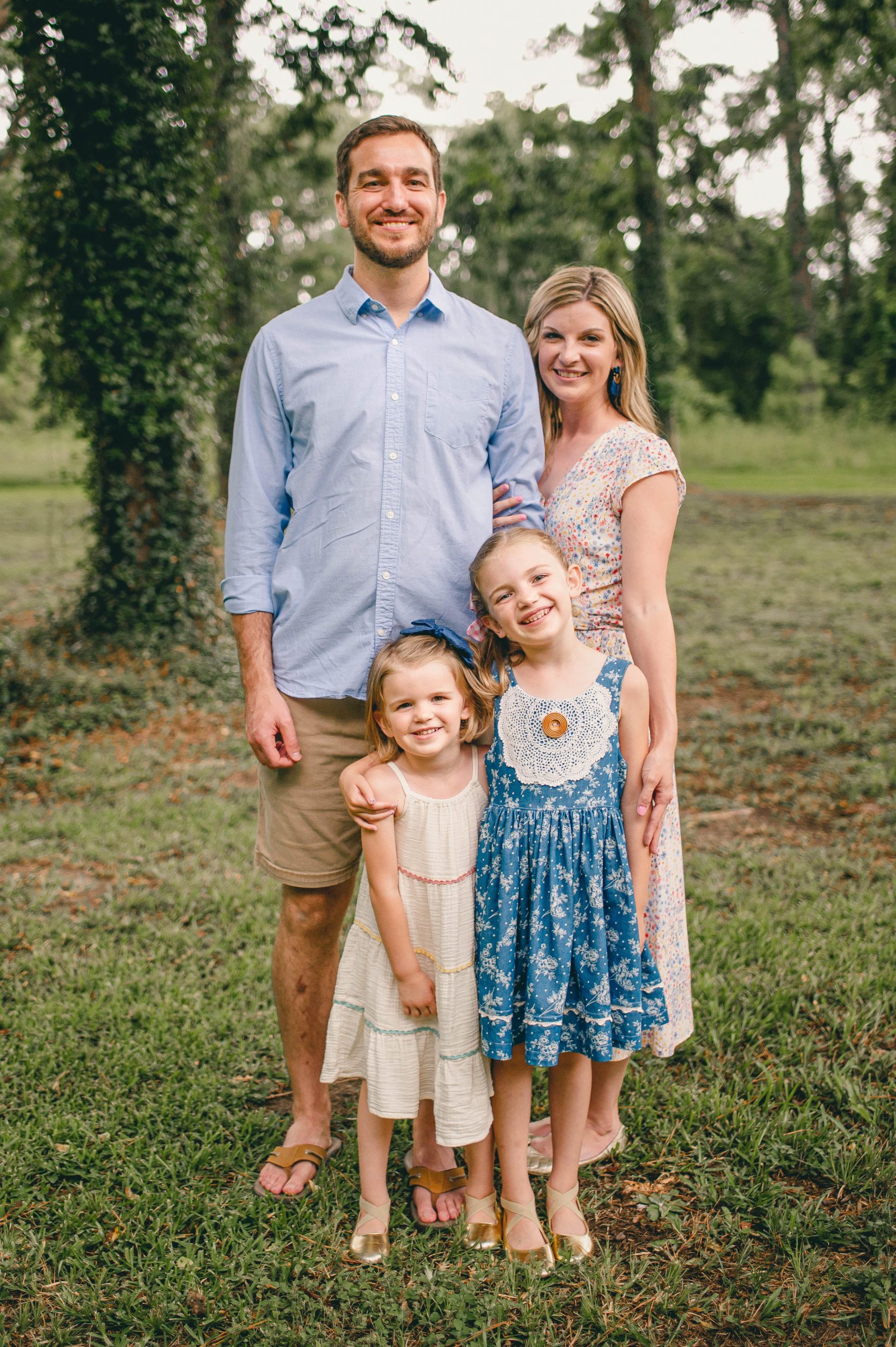 Ryan & Michelle
Hello! We are Ryan and Michelle! We have been waiting and praying for this opportunity to adopt for a long time. We met at Baylor University in 2014 and have been married since 2017.
When we were dating, we talked about our desire to one day adopt. After a few years of marriage, we discovered having children biologically was not going to be easy for us. It was then that we knew the Lord had shut that door, so another one could open. We are thankful the Lord has led us to this place and cannot wait to grow our family through adoption.
Ryan is a cinematographer and films a variety of things with his company! One of the videos he got to work on even played as the intro to the Super Bowl one year! Michelle is an elementary special education resource teacher. She loves working with her students and is passionate about helping every child become a reader and writer! We love to do DIY projects, work in the yard, and spend time with family and friends. We host our Bible Study every Tuesday evening and enjoy having people over. We also love to be active and are constantly finding ways to be outdoors! Our family is extremely important to us and we prioritize spending time with family by doing fun projects, going on family trips, and playing with our sweet nieces.
We know this is a large decision and we want you to know you are supported and cared for regardless of your decision. You are a child of God. We want you to know that if you choose us, we are not just saying yes to your child, but also yes to you and your loved ones!
Corey & Mary
Hello! We are Corey and Mary. We have one daughter, Elizabeth who is the biggest blessing in our lives. She was adopted through New Life in 2019. Corey and I met and became friends our freshman year in college. We have been married since 2014. We enjoy spending time together as a family! Corey is an engineer and I used to be an elementary teacher. I am now blessed to stay home full time with Elizabeth.
We are very thankful for our church family! We want our children to know the love of Christ and for church to be a place they always feel at home.
We all love being outdoors, hiking, and camping! We love finding new parks and fun places to play. We also love to travel and explore new places. Corey loves cycling and we all enjoy swimming. Corey has taken up woodworking and built a few pieces of furniture for our home. I enjoy cooking and trying new projects like sewing, gardening, crafts, and small art projects.
Elizabeth has been such a blessing and brought our lives so much joy. We feel God leading us to continue to grow our family through adoption. We are praying for our future birth parents and future child. We are praying for God to give them comfort and safety and for them to know His love.