I'M PREGNANT
Unplanned or Unwanted Pregnancy? We Can Help! You Have Options!
Unplanned or Unwanted Pregnancy? We Can Help! You Have Options!
We are here to help you explore all of your options. You can trust us to help you make the best decision for you and your baby. We will provide you with:
A personal advocate who represents your interests.
Freedom to consider all your pregnancy options.
Decision making at your own pace.
Adoptive families who are committed and prepared to honor you.
Adoption planning where your needs come first.
We are a licensed child placing agency for the state of Texas. We believe you are not considering "giving up" your baby but making a loving plan for their future.
We can help by providing you with free personal support and counseling, factual information, and the resources you need to make that decision.
Your plan is YOUR choice.
Call or text us (281-955-1001) today to speak with one of our options counselors. You may also fill out the Expectant Mom Form or send an email. You don't have to be set on choosing adoption to get more information. All information you submit is confidential.
Considering Adoption?
Choosing adoption for your child is a brave and sacrificial choice. It means you have thought about what is best for your baby. It says that you have the courage to carry your baby to term. Adoption is never an easy choice, but at New Life we will be here to support you as you make an adoption plan for your child. You are able (if you would like) to choose your child's parents, meet them, talk with them, and correspond with them through letters and pictures. You can choose to visit with your child and your adoptive family a few times each year. It is a difficult choice, but a choice that speaks of your love for this child.
I Can Choose Marriage or Co-Parenting
A supportive partner helps to ease the burdens of raising children. However, if a couple is not prepared for the challenges of marriage or co-parenting, children can add stress to an already difficult situation. If you are considering marriage or co-parenting as an option, make sure your relationship is a commitment based on mutual love, trust, and respect for each other.
I Can Choose Single Parenting
Babies and children can bring much joy, but often the stress of sleepless nights, financial burdens, and constant care can lead many single parents to exhaustion and feeling overwhelmed. Make sure you consider who may be there to support you and help you as you consider the option of single parenting.
Considering Abortion?
A chemical or surgical abortion will end your pregnancy. With all abortions there are many risks involved. There are physical and emotional issues after an abortion that you will need to discuss with someone you trust. For more information, please contact your doctor or visit your local pregnancy center.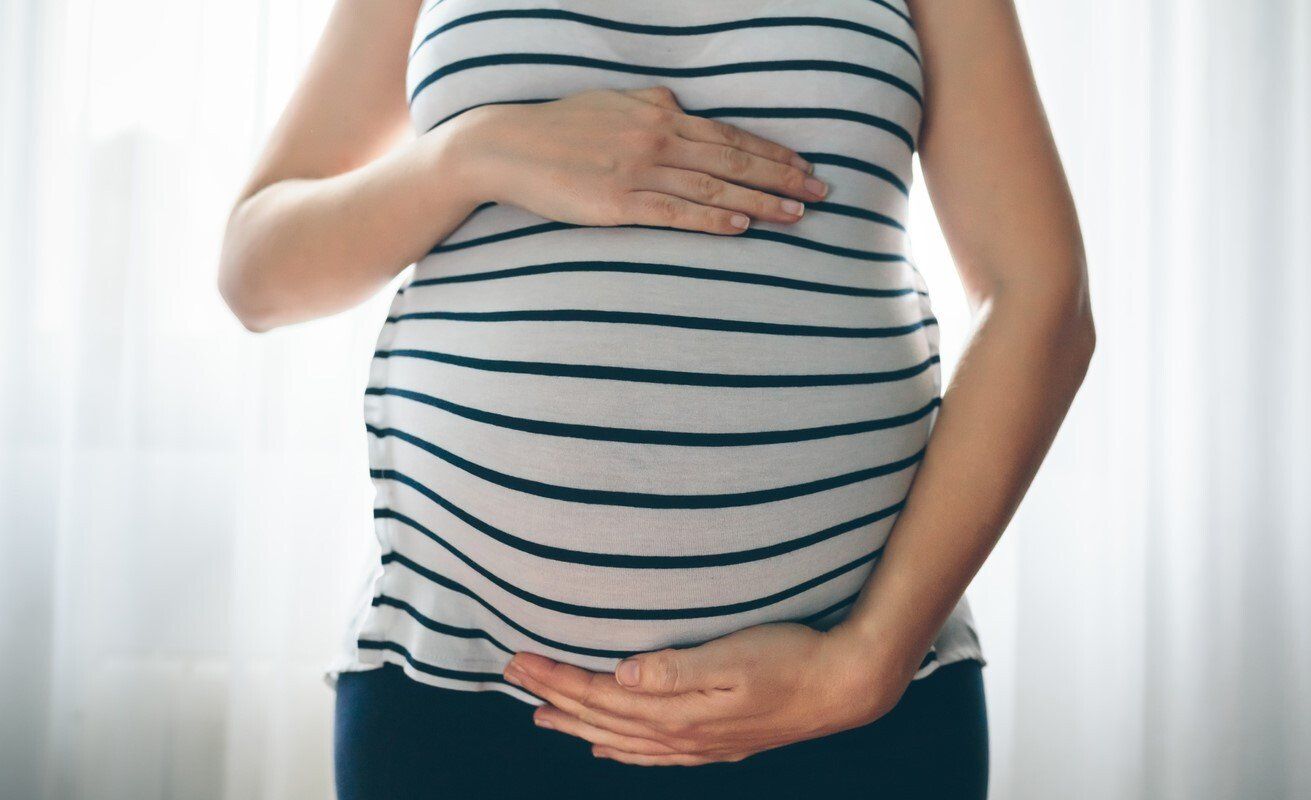 WHAT CAN I DO RIGHT NOW?
You have already made a good start on gathering information. We hope you will call, text, email, or fill out the contact form so we can speak with you confidentially about your options. Contacting us does not mean you have decided on adoption. It means that you are willing to talk with someone who can help you understand all of your choices and give you factual, relevant information to make the best choice for you and your baby. New Life is here to support you, no matter what you choose.
WHAT CAN I DO IF I DON'T WANT TO BE PREGNANT?
Maybe your first thought after your pregnancy test was something like "I'm pregnant and I don't want to be",
"I can't have this baby", "I do not want this baby" or "It's not a good time to have a child."
Whatever thoughts are racing through your mind, know that you have options if you're pregnant and don't want a baby.
Only you can make the right choice and you can start with these steps:
Know your choices. It's difficult to discover that you're pregnant and don't want to be. You may feel shock, denial or even disbelief. This is normal.
Learn and research all of your options. These include parenting, abortion and adoption. You need to consider if you are ready to be a parent.  If it is not the right time to be a parent, you have other options. Abortion is not the only option! There are many families out there who would love your child. You can choose a family to provide a safe, loving home for your child.
Contact a professional. If you are considering adoption or abortion your next step is to contact a professional. If you're pregnant and want to give up/put up your baby for adoption (we like to say make an adoption plan), the professionals at New Life can help!
Call or text us at 281-955-1001.
ADOPTION TODAY
Adoption has changed over the last few decades. It is never an easy choice, but society is now recognizing the brave and selfless choice a birth mother makes when placing her child for adoption. Adoption stories are becoming stories of hope, blessing, and joy for the birth families as well as the adoptive families. At New Life, we encourage pregnant women to explore all of their options, and offer the individualized counseling you need to make the best decision for you and your baby. No one will pressure you to consider adoption.
If you choose adoption through New Life, you can:
Work with an options counselor to make a personalized adoption plan.
Choose your baby's adoptive family and meet them.
Make a hospital plan that is right for you.
Choose a name for your child that the adoptive family keeps as a first or middle name.
Choose the level of contact you will have with your adoptive family.
Receive help with medical care.
Receive legal services during your pregnancy.
Receive lifetime counseling, helping you as you move through the adoption process, after birth and beyond.
Services included in your adoption plan:
Personalized Attention and Understanding
Pre/Post Adoption Counseling
Choosing a Family for Your Child
Making a Hospital Plan
Ongoing Practical Support
Housing Referrals
Transportation Assistance
Medical Service Referrals
Legal Resources
In counseling, we will explore
Parenting vs. Adoption
Agency Adoption vs. Private Adoption
Grief and Loss
Legal Issues
Other services:
Support Group for Birth Families
Post Adoption Services & Support
Call or text us! (281) 955-1001 to speak to an options counselor.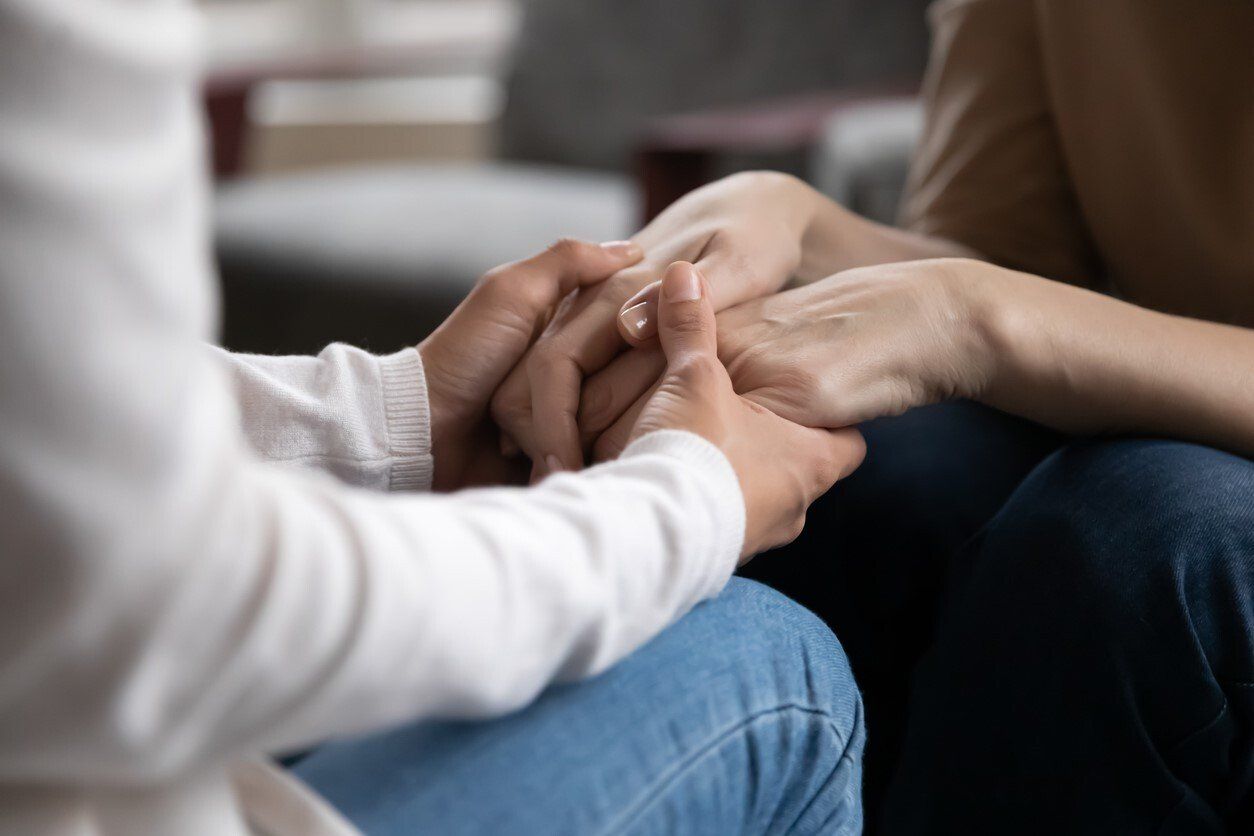 The Benefits of AN Agency Adoption
Your Needs:
AGENCY – New Life serves pregnant women in a variety of ways. Housing, medical care, relationships, and your emotional health are important to us.
PRIVATE – In adoption, financial assistance to pregnant women is regulated by law. You should be cautious if you are offered money to place your baby with someone.
Your Wishes:
AGENCY – Your New Life Adoption Specialist will spend time with you exploring your wishes regarding your adoption plan. She will be supportive of your needs during all stages of your pregnancy and after the birth of your baby.
PRIVATE – You will be responsible for ensuring that your thoughts and opinions are heard and given full consideration.
Choosing a Family:
AGENCY – You can choose from New Life adoptive families that have been through an extensive screening (including background checks) and approval process. These families have had training about adoption and are aware of your viewpoint and your needs as a birth parent. After placement New Life completes a thorough assessment of the family, including visits with the family in their home.
PRIVATE – You might be told of an adoptive family by a friend or family member who may not know detailed information about that family. This adoptive family may not have knowledge of adoption issues or the needs of a birth parent.
Personal Information:
AGENCY – You have control over how much contact information you want your New Life adoptive family to have. The adoptive family will share who you are with your child in a respectful and loving way.
PRIVATE – Full disclosure of your contact information could be shared. You may not know the attitude with which the adoptive family presents you to the child.
Continued Contact:
AGENCY – You can have continued contact with your child. You can work with your New Life Adoption Specialist to decide what type of relationship you would like to have. New Life will help to promote an ongoing relationship between you and the adoptive family for life.
PRIVATE – There is no advocate for you if the adoptive family does not carry through with what they might tell you relating to continued contact.
Birth Father:
AGENCY – If you and the birth father disagree about adoption or you no longer have a relationship with him, you may not have to talk with him if you do not want to.
PRIVATE – If you and the birth father disagree about adoption or you no longer have a relationship with him, you must find someone who will work with him to determine if his rights can be terminated.
Attorney/Court:
AGENCY – You will not need to have an attorney, nor will you need to go to court. New Life will handle all legal details for you. There is NO cost to you.
PRIVATE – You will need to ensure that a competent attorney handles all legal issues pertaining to the adoption, and that you can trust that person.
BABY DEVELOPMENT TIMELINE
The growth and development of a baby is an incredible experience. From the beginning, we can see God's beautiful creation of a human.
FERTILIZATION
Fertilization: the joining of the egg and the sperm to form a unique human being. The baby already contains a full set of DNA from the mother and father, which determines sex, eye color, hair color and other traits.
Week 4
The embryo is about the size of a poppy seed. When the embryo reaches the uterus, it will burrow into the uterine wall for nourishment. The placenta, which will nourish the baby throughout the pregnancy, also begins to form. Hormones produced by the embryo have stopped the mother's menstrual cycle. Over the next six weeks, all of your baby's organs will begin to develop, and some will start to function.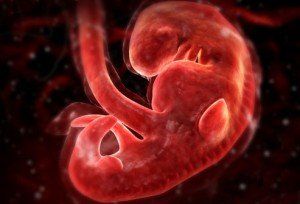 Weeks 5 – 6
The baby's tiny heart begins to beat – at twice the rate of yours. His brain, spinal cord, and other organs also begin to form. His entire form is only about the size of a sesame seed. His heart is pumping blood. Basic facial features (like eyes and nostrils) are beginning to form. His body begins to take on a c-shaped curvature. Small buds will soon become arms and legs. By the end of this week, he may be 1/6 to 1/4 inch long.
Week 7
The baby's brain and face are rapidly developing. The arm buds that developed last week now take on the shape of paddles. She has developed her own blood type, unique from her mother's.
Week 8
The baby's arms and legs are growing longer, and he now has little fingers as well as a nose and upper lip. He may begin to move this week, but the mother won't be able to feel it yet. The trunk of the baby's body is beginning to straighten and he is about 5/8 of an inch long.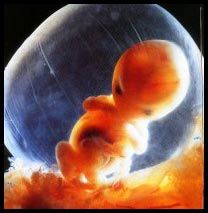 Weeks 9 – 11
The baby's eyes have developed, though eyelids are fused shut for now. Vital organs – such as kidneys, intestines, brain, and liver – are starting to function. Tiny fingernails and toenails are forming. Bones are beginning to harden, and genitalia are developing externally. She can hiccup, though it's too soon to feel it.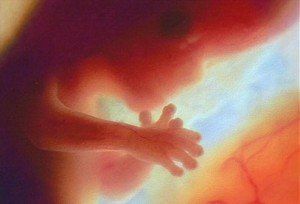 Week 12
The baby's heartbeat can be heard at a prenatal checkup (it may have already been heard at an early ultrasound). He is just over 2 inches long and weighs about half an ounce.
2ND TRIMESTER
Weeks 13-16
The baby can make sucking motions with her mouth now and her nervous system allows her to feel pain. Muscle tissue and bone continue to form, creating a more complete skeleton. She can make active movements including kicking and even somersaults. More developed facial muscles may lead to various facial expressions such as squinting or frowning. She can see light that filters in from outside the womb, even though eyelids are still shut.
Weeks 17-18
If the mother hasn't felt her baby move yet, she probably will in the next few weeks. It will take a couple of weeks longer for other people to feel the baby's movements from the outside. Fat begins to develop under the baby's skin. The fat will provide energy and help keep her warm after birth. Her ears begin to stand out on the sides of her head. As the nerve endings from her brain "hook up" to the ears, she may hear the mother's heart beating, her stomach rumbling or blood moving through the umbilical cord. She may even be startled by loud noises.
Week 20
Fingernails and toenails appear and the baby's sex organs are visible on ultrasound. By now the baby may be about 6 1/3 inches long and weigh more than 11 ounces.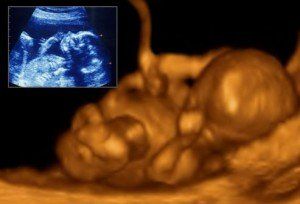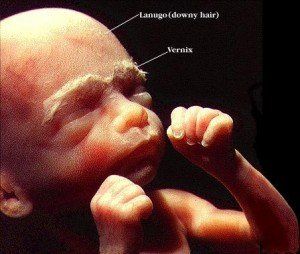 Weeks 21- 24
The baby's sense of movement has developed, and the sense of hearing continues to improve. He may sometimes be seen squirming under the surface of your belly. His brain is growing very quickly. He is becoming more active, can swallow and is regularly sleeping and waking. The tongue will soon develop taste buds. Fingerprints and footprints are forming. Hair is beginning to grow on his head. With medical care, some babies born these weeks may be able to survive. He is almost 12 inches long and weighs just over a pound.
Weeks 25-27
The baby's hands are fully developed. She can open and close her eyes. Her lungs, liver and immune system are continuing to mature. She has been doing "practice breathing" by inhaling and exhaling amniotic fluid, and if born now her lungs could function (with medical help).
3RD TRIMESTER
Weeks 28 – 30
The baby can make sucking motions with her mouth now and her nervous system allows her to feel pain. Muscle tissue and bone continue to form, creating a more complete skeleton. She can make active movements including kicking and even somersaults. More developed facial muscles may lead to various facial expressions such as squinting or frowning. He can see light that filters in from outside the womb, even though eyelids are still shut.
Weeks 31-34
The baby's body begins absorbing vital minerals, such as iron and calcium and has grown little fingernails and toenails. She's almost 17 inches long and weighs 3¾ pounds. Thirty-three weeks into pregnancy, her pupils can constrict, dilate and detect light entering her eyes.
Week 37
The baby is now considered full-term. His lungs should work fine if he's born now, but ideally he will stay in the womb a bit longer.
Week 40 – Birth
The baby is due and ready for life outside the womb. The average weight of a newborn is about 7 1/2 pounds, and the average length is about 20 inches.
BIRTH PARENT STORIES
YOU ARE NOT ALONE. MANY WOMEN HAVE WALKED THE PATH OF AN UNPLANNED PREGNANCY. HERE ARE SOME REAL LIFE STORIES.
"I love New Life! There is absolutely nothing that I would have done differently. Everything turned out beautifully. It was the hardest decision that I have ever made, but looking back it was also the best decision that I have ever made. At the time, I thought that I would never be able to recover, but that was definitely not the case. Everyone at New Life was so loving and gracious! I also love the idea of open adoptions, although I was terrified of that idea at first. Overall, New Life and my adoption was an incredibly positive experience. I could not be happier with the experience."
-Monika
"When I was introduced to New Life, I didn't know what to expect. I had just given birth and was lost. I knew that I couldn't take care of my baby alone and that I wanted the best for him, even if I wasn't the one that would give him that. All I knew was I wanted him to be cared for, loved, and I wanted him to have the best of everything. I knew that I wouldn't be able to give him that. The day after I had given birth I met the New Life staff and they helped me through everything. They made me feel at ease and reassured me that I would be able to have contact with my baby through open adoption. And now after a year I still can't imagine a better place to turn to when I needed help the most. Not only am I happy about seeing my son grow to be loved and cared for but I also love seeing my new extended family grow as well. I really couldn't ask for a better happy ending."
-Rainisha
"My experience with New Life was great! I was welcomed with open arms and I was encouraged. I really loved being a part of a community. At the monthly support group, I found safety in knowing I wasn't alone. New Life really does inspire life."
-Brandy
STORIES FROM OTHER BIRTH PARENTS (COURTESY OF BRAVELOVE):